A few weeks ago I went down to the National Geographic headquarters in DC and had a chance to participate in their Adventure 5 series. They asked a bunch of their Explorers from different fields to explain some of the lingo they use. Their studio was really amazing, I wish I would have taken a picture. They had teleprompter to the side of the camera that made the interviewer's eyes float right in front of the lens. This "mirror mirror on the wall" effect was kind of like being interviewed by a ghost, but made it easier to look in the right direction, which has always been challenging for me (see below).

Anyway, the

they did a really great job putting the whole thing together - looks a lot better than I felt filming it! You can see mine below, and the rest of them on the Adventure 5 site.
Powered by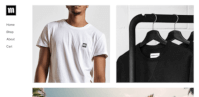 Create your own unique website with customizable templates.